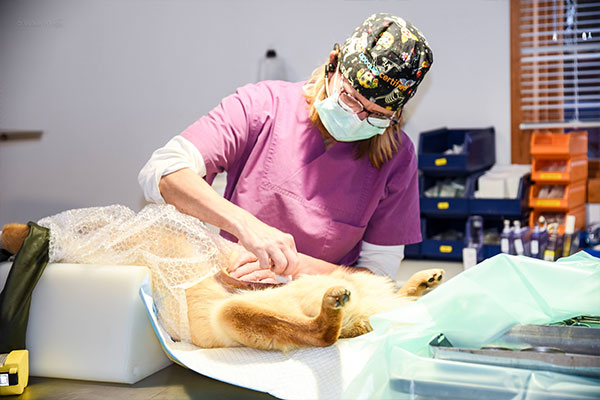 We at Gratian Djurklinik are looking for an adventurous person with a degree and/or experience as a veterinary nurse!


Full-time job available from now until the end of September or longer.

Gratian Djurklinik is a small veterinary clinic in Norrland/Västerbotten which caters mostly to sporting and hunting dogs but also takes care of all ailments of any other dog, cat, ferret, rabbit or horse.
We are far inland, close to the fjäll and close to Norway and are experienced and equipped enough, to deal with most emergencies and surgeries as well as with advanced and more complex diseases. We are quite independent and have the means and connections to take the best care of the animals at our place and only rarely have to send them elsewhere, eg for advanced imaging and/or orthopaedic (bone) surgery.
Currently, 2 experienced veterinarians see to that the clinic is running almost 24/7.




We need YOU who speaks Swedish and English and has the knowledge and experience to jump right in and help us to run the clinic smoothly. 
You should be used to answer the phone friendly and competently, make appointments, handle the animals, run lab tests, see to that the inventory and in house drugs get always refilled and ordered in time. You should be able to change a drip line, prepare the surgery, assist with the anaesthesia and clean and sterilise the instruments afterwards.

Additionally, we offer room and board and would like you to become part of our extended team of 36 sleddogs and 4 horses and not to forget our cat!


We will introduce you to managing a large group of dogs and would like you to help with the feeding and daily routines of both, dogs and horses.
All horses are ridden and if you are an experienced horse-rider you are most welcome to do so.


We are situated right at the river Umeälven with possibilities to paddle and fish or even sail or swim. Even though there will be a lot to do on a daily basis, the long and bright summer nights leave always room to do more and fun stuff.



If this sounds like a great way to spend your summer and you are a responsible, open-minded and friendly person, please don't hesitate to contact us.