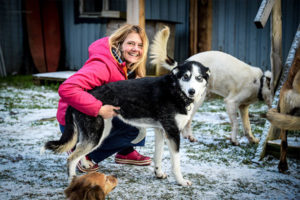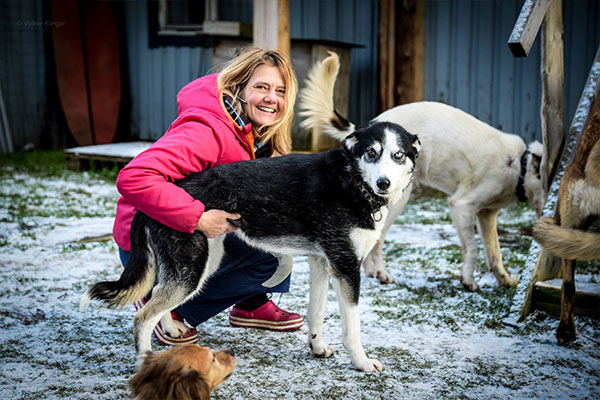 During the veterinary training, I focused especially on small animals and horses and on what I am most passionate about; sled dogs. After university, I worked for several years at large veterinary clinics with both small animals and horses to deepen my knowledge, before I got a job as a so-called resource veterinarian in Germany, Great Britain, France and Switzerland. In parallel, I have worked as a veterinarian at sled dog competitions since 1997; such as Finnmarksloppet, Grande Odyssee, Scandream, Transitalia in Europe and Yukon Quest and Iditarod in Alaska, USA.
At the same time as she enjoys her daily work as a veterinarian at the clinic among pets and treatments, she has a continuing burning interest in sled dogs – and in draft dog sports. Her long commitment as a veterinarian at various sled dog competitions has over the past three years resulted in a position as a chief veterinarian at the annual Norwegian Femundlöpet, a challenging competition based in the city of Röros and held in February. The largest dog teams, in the twelve-team class, run a distance of 600 kilometres in real winter weather.
Annette Kriller has been a member of the prestigious ISDVMA (International Sled Dog Veterinary Medical Association) since 1997 and in 2016 she was elected to the board.
Wanted to stay cool
When love came into life and cohabitant Dave King, who lived in Alaska for a few years, wanted them to settle somewhere where the climate was cold, they decided to move to northern Sweden. We found Slussfors and here we were able to open our own animal clinic in 2008. It is perfect in so many ways and we have plenty of space for our own animals. We currently have two cats, four horses and 43.5 dogs. The "half" is a little Jack Russel, two of them are German Shepherds, one is a wolf-dog, one is a "rescue" from Romania and 39 are draft dogs that we ourselves train and compete a bit with.